Swixer is a full production service company that helps international clients with their Film, TV, Digital and Stills productions in Europe. Our headquarters are located in Stockholm, Sweden with local offices and branches all across Europe. 
In each country we have local Producers, Fixers and production managers who can help tailor and manage international shoots of all sizes in one or several countries. We have a solution-oriented and flexible mindset that we bring to every production, no matter the size.  
Swixer is proud to have been a part of productions for some of the leading agencies, production companies and brands in the world, such as: Apple TV, BBC, Microsoft, Volvo, Netflix, Bloomberg, CNN, Google, ESPN and more.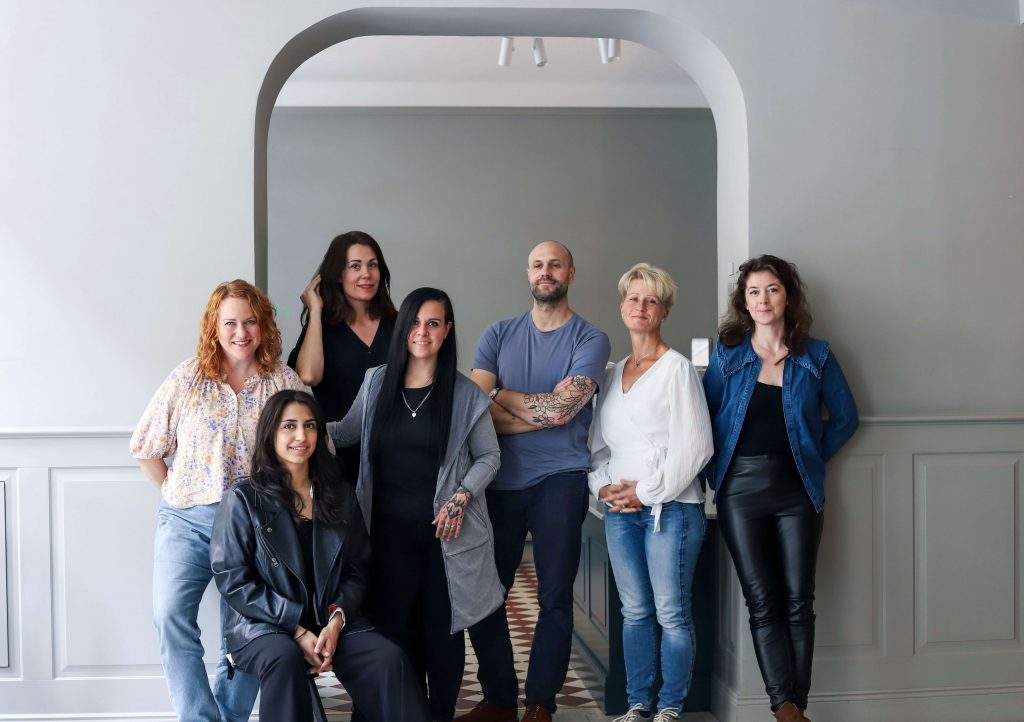 Whatever the size of your production or your budget, Swixer will find solutions to help you tell your story. We know the value of working with a trustworthy, knowledgeable, and experienced crew when filming far away from home. That's why we've built up a network of the most talented and reliable people in the industry – no matter the country or position.
Many of our clients see us as a 'one stop shop' rather than going to say five different service companies if they are shooting in several different countries. This intersection of talent, local insight and industry knowledge is the core strength of our work and what we are most proud of at Swixer!
Swixer started with our founder and CEO Fatima Lagerås and has grown into something we're so proud of. It all started in 2012 when Fatima received a request from Morgan Freeman's production company Revelations Entertainment. They had found her CV online and needed local support for an upcoming documentary shoot for National Geographic in Stockholm. Back then Fatima worked as a freelance reporter, producer and director. At the time, the Swedish market didn't really offer "Fixers," and in fact, despite being experienced in the industry, Fatima hadn't even heard the term before (at least not in a journalistic / production context). To her, a "Fixer" was someone who could fix a broken TV or washing machine perhaps. And all of a sudden, she found herself to be "The Swedish Fixer" and serving this fun crew from LA in her hometown Stockholm.  
The crew needed someone on the ground who could be their eyes and ears. Someone who could help them plan the shoot by securing permits and releases, booking interviews, translating and being present during the shoot to help with anything that came up. Fatima figured they probably weren't the only ones who needed help shooting in Sweden. There had to be other international crews out there, right? And boom, just like that, a new production service company was born: The Swedish Fixer, or "Swixer"! 
Since then, we've been able to provide crew, locations, logistics, casting, management, equipment, talent, etc to hundreds of international productions all across Europe: TV shows, global commercials, livestream studio shows as well as branded corporate shoots. It's all been possible thanks to our employees and our  network of freelancers we've built up throughout the years. We're on an exciting expanding adventure and can't wait to see what the future holds. Thanks to Morgan Freeman!
See our customer case video below where Executive Producer Megan Parlen shares her experience of working with us! 
"Swixer helped us set up a remote shoot for a livestream 5 camera studio show with live-to-tape, presentation, and online Q&A in Stockholm while we were in the UK. It was helpful to have Erin as our eyes and ears on set managing the production and talent the way we would have, had we been able to travel. From finding a studio and managing crew, helping us work within budget, and making sure our talent were taken care of, we knew we were in good hands with Swixer overseeing our project."
Samantha Cook
Silverback Films
"We loved working with you because you were positive, efficient & adaptable to changes / sign off at short notice…"
"Our US-based company contracted with Swixer to fully organize and execute a local shoot in Stockholm, since none of our team was able to fly in, due to the pandemic. In interviewing multiple candidates for the project, I was continually impressed with Fatima and her whole team. Their responsiveness, professionalism, and attention to detail were extremely helpful in navigating the foreign shoot locale, and in providing on-the-ground support throughout. The team members she hired for the project were first-rate, everyone was solution-oriented, and our own US-based team was able to remote in seamlessly on the day. Swixer will certainly be our first call for any projects in the future."
"Thank you so very much once again for all your help in getting the shoot in Sweden together in record time! You made the process really smooth and painless, and the client was so pleased with the content the producers delivered. We look forward to hopefully working with you again on more projects in the future!"
Claire Bugden
Renegade Pictures
"Our shoot in Copenhagen was a massive success, everyone was so pleased. We were all slightly in awe of Christophe and the rest of the Danish crew – what a brilliant bunch of people. We were so happy to work and collaborate with them. Christophe went above and beyond and I just hope he enjoyed the experience also, it was full on some of the days, but we couldn't be any happier."
Katie, Bassham, Production Manager
House Hunters International
"Swixer provided our entire local crew (Director, DoP, Sound Recordist, Fixer and PA). Everyone was lovely and really went the extra mile in making sure the COVID-19 protocols were followed on top of rolling with the punches and delivering a great episode. I can't thank SWIXER enough and look forward to working together again!" Mike Garrod, Producer/Director
Discovery Channel International
"I had a great time working with Swixer. They were really efficient and dealt with our various problems before I had even thought of them. A good, solid local producer."
"We worked with SWIXER's crew earlier this year and it is a pleasure to provide a reference. In the lead up to our arrival they were very clear in their communications and made me feel very at ease. They completely understood the brief and made sure that everything was organized and in order before our arrival. I felt in very good hands. On set, Fatima is not only a pleasure to work with, she is extremely professional. The crew she engaged were also easy to work with and helped us run a smooth operation…"